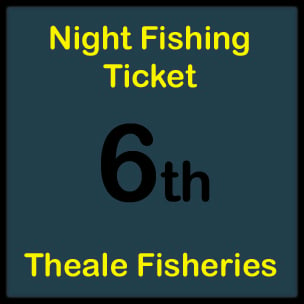 06th July (Night)
6th July - Night fishing ticket
This ticket will allow one person to fish with a maximum of two rods on the Island Lake at our fishery from sunset on the date of the ticket until sunrise the next day. Please ensure that you have read all our terms and conditions, rules and codes of conduct before purchasing a ticket. Sunrise and sunset times are on this web-site and displayed on the fishery notice board.
Using the options above you can tell us who is going to be at the fishery and by providing your vehicle registration number you will assist us in identifying vehicles in the car park.
You will receive an email from us which will include a link to your ticket. You will need to download this before you visit the fishery as it contains the lock code, a car park ticket and will be your proof of purchase for our onsite bailiffs.